Infrastructure
Sri Aurobindo College of Commerce and Management (SACCM) aims to contribute to the movement of nurturing the youth as leaders of tomorrow.
Home / Infrastructure / Campus Digitization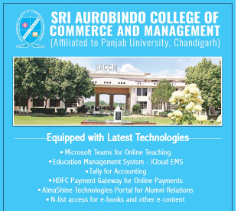 Digitization and digitalization have been the way with Sri Aurobindo College of Commerce and Management, Ludhiana, since its inception. The College acknowledges the indispensable significance of use of ICT in effective Teaching Learning Process. Taking all this into consideration, the College implemented digitization and made its campus fully Wi-Fi. Projectors and Speakers have also been installed in each classroom. The facility of using internet through Wi-Fi has been given to each member of the College. As of now, one thousand users can access internet facility. The total use of digital technology by the faculty and the taught has perked up teaching and learning to mammoth extent, and it has further greatly facilitated the administrative work.
 During the pandemic, extension lectures, webinars, orientation programmes, quiz sessions were conducted online. The teachers geared themselves to the new mode of teaching so that the students could gain the utmost. Surprisingly enough, it was at a meteoric speed that the SACCM students could format themselves into the new mould.
The college lost no time in purchasing state of the art laptops, technology digitizers, webcams, and mics for its faculty, and thus it showed the will and dynamism of the college to invest every sort in its students through its faculty.
The college has state-of-the-art computer center with 60 Mbps Leased Line internet connection to ensure accessibility to each student for completing assignments and projects and for the conduct of Online teaching.