Infrastructure
Sri Aurobindo College of Commerce and Management (SACCM) aims to contribute to the movement of nurturing the youth as leaders of tomorrow.
Home / Infrastructure / Campus Digitization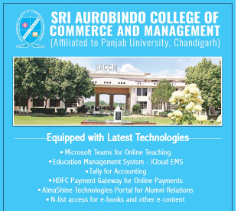 To keep the pace with modern technology, SACCM is all for Information and Communication Technology (ICT). The College acknowledges the indispensable significance of use of ICT. Taking all this into consideration, the College implemented digitization and made its campus fully Wi-Fi. Projectors and Speakers have also been installed in each classroom. The facility of using internet through Wi-Fi has been given to each member of the College. As of now, one thousand users can access internet facility. The College wants to religiously contribute towards the overall development of the Young India. Hence not lagging behind in the 'Silicon' Technology, SACCM has trodden well in advance on the path of Digital India.
The college has state-of-the-art computer centre with —— Mbps Leased Line internet connection to ensure accessibility to each student for completing assignments and projects and for the conduct of Online teaching.