Campus Life
Sri Aurobindo College of Commerce and Management (SACCM) aims to contribute to the movement of nurturing the youth as leaders of tomorrow.
Home / Creative Activities
Fostering Holistic Development through 'Cultural Fest cum Talent Hunt Competition'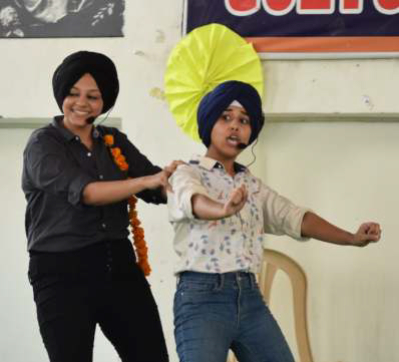 With the objective of ensuring the real holistic development of students along with excellence in academics, 'Cultural Fest cum Talent Hunt Competition' is organized in various creative and performing arts. An array of activities is organized in the fest to identify students' artistic talents and to further groom and train them for participation in the Panjab University Youth Festival and other Inter College Competitions. The creative activities include Fine Arts, Literary, Musical, Theatrical, Dance and Heritage events.
Fine Arts Events: These events include Rangoli, Collage Making, Cartooning, Poster Making, On the Spot Painting, Face Painting, Best out of Waste and Clay Modeling and Quiz.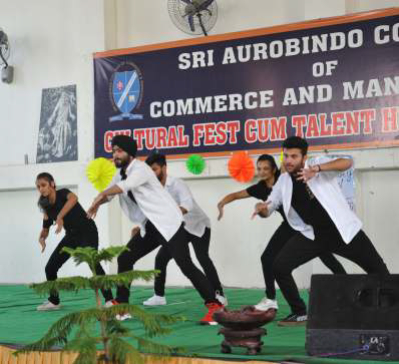 Literary Events: SACCM endeavours to promote intellectual activites among the students by providing them a platform for improving their creative writing skills. The Literary Events cover events like Debate, Elocution, Poem Writing, Poem Recitation, Essay Writing, Short Story Writing, Business Plan.
Musical Events: These events are primarily oriented towards Light Music Vocal, Shabad/ Bhajan, Group Singing, Classical Vocal, Instrumental Music (Indian), Orchestra (Indian) and Group Folk Orchestra.
Theatrical Events: These events cover Drama, Skit, Mime, Ad-Mad Show, Mimicry, Nukkad Natak and Histrionics to showcase the dramatic talents of the students.
Dance Events: The Dance events cover traditional dance forms of Punjab i.e., Bhangra and Giddha. Dance items also cover Classical Dance and Group Dance.
Heritage Events: Heritage events include Mehandi Designing and Crochet.
Ongoing Activity: SACCM Wall Magazine and Bulletin Boards also serve as a platform for the students to showcase their creative skills.