About Us
Sri Aurobindo College of Commerce and Management (SACCM) aims to contribute to the movement of nurturing the youth as leaders of tomorrow.
Home / About Us / College Emblem
College Emblem – Symbolizing its Identity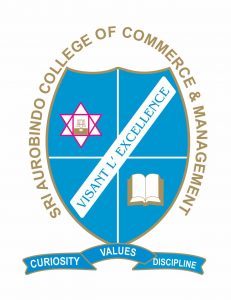 Over the very first decade of its inception, Sri Aurobindo College of Commerce and Management has earned the repute of Academic Excellence and has been able to establish its own College Emblem, symbolising its identity. An ideation of Col P.S. Choudhry with some inputs given by Ms Surbhi Thakur with respect to the design, the College Emblem captures the essence of the core-values and spirit of the college. Every single constituent of the College Emblem has a hidden meaning with an insightful justification. To begin with, the College Emblem assumes the shape of a Trophy, which is a symbol of Victory. At its base, Curiosity, Values and Discipline have been exhibited. Curiosity signifies the never-ending urge of learning and doing something new. Values illustrate the foundation for ethical and integral achievements and finally, Discipline is the significant of all so as to mould the students into an admirable member of society. The upper-left quadrant of the emblem has the Symbol pioneered by Sri Aurobindo, indicative of his philosophy on education and the lower-right quadrant has an Open Book, which implies that learning is a continuous process that in turn leads to wisdom. The centrally placed and upward moving Motto of the college hinges in the spirit of 'Visant L' Excellence', which is a French Version that connotes to 'Striving towards Excellence'. It is worth mentioning here that this motto has originated from the Writings of The Mother. Above all, the name of the college 'Sri Aurobindo College of Commerce and Management', appearing in the Royal Golden Colour, reflects the prestige and honour for the college with a strong ambition to imprint the college's name in golden words in the pages of the history.
The College Emblem has been approved by college managing committee.