Academics
Sri Aurobindo College of Commerce and Management (SACCM) aims to contribute to the movement of nurturing the youth as leaders of tomorrow.
Home / Inter Section Subject Quiz (ISSQ)
Inter Section Subject Quiz (ISSQ)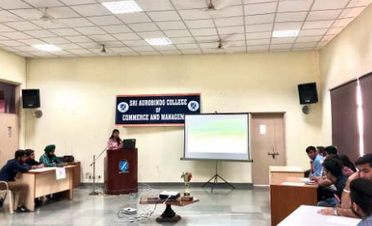 (Based on teaching learning practices followed by some of the Universities in U.K.)
An innovation teaching pedagogy in the form of Inter-Section Subject Quiz is organized every year with the objective of instilling a habit of regular studies. For this, the students are divided into three groups according to their academic performance. Then teams are formed having team members of three different academic calibers with the aim to promote peer tutoring and cooperative system of learning. Being an Inter Section Quiz, it helps in enthusing competitive spirit. The backbone of ISSQ is the comprehensive question banks prepared by the teachers matching the varied intelligence levels and academic caliber of team members.