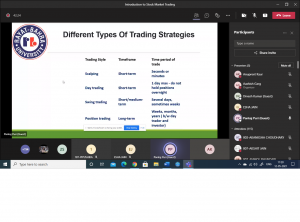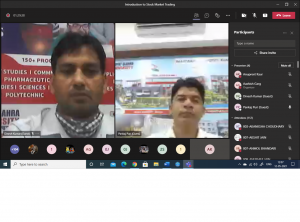 Career Guidance & Placement Cell of Sri Aurobindo College of Commerce and Management, Ludhiana organized a webinar in collaboration with Rayat Bhara University on the topic 'Introduction to Stock Market Trading' on 12th May 2021. For this, the eminent resource person was Mr. Pankaj Puri having 15 years of experience as a Corporate Trainer, Marketing, Branding and Business Development and a Certified Stock Market Trading & Investment Professional from Sharekhan. Mr. Puri started his lecture with the basic terminologies of stock market and explained students every detail of the procedures involved in the buying and selling of stocks. He discussed about the differences between Investing and Trading, told students about the applications like Zerodha and Sharekhan which help in trading and provides brokerage services, gave knowledge of bullish and bearish markets.
 Mr. Pankaj also gave a demonstration on how he practically does trade and concluded his lecture saying that regular reading of the market and doing trading regularly would help in making good profits from the market.
The virtual session was attended by 120 students of B Com 4th and 6th semester. Overall, it was a knowledge enriched session.