Entrepreneurship and Incubation
Sri Aurobindo College of Commerce and Management (SACCM) aims to contribute to the movement of nurturing the youth as leaders of tomorrow.
Home / Description Note
Talk on functions and development of an Incubator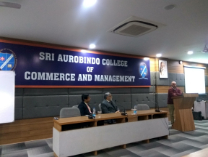 SACCM organised an interactive talk on 'Innovation, Entrepreneurship and Role of Incubators' by Mr. J.K.Sharma CEO Technology Business incubation foundation, IIT Ropar.Mr. Sharma advised the college that we should start or strengthen entrepreneurship cell if there is any before establishing incubator. Moreover, the said cell should be run in structured manner. Program calendar for the year should be prepared at the beginning of the year and should include one to two meetings of the cell members on a specified agenda.